In-Depth Vulnerability Analysis of Selected State Administration Bodies to Hybrid Threats (Public Version)
In-Depth Vulnerability Analysis of Selected State Administration Bodies to Hybrid Threats (Public Version)
Knowing one`s vulnerabilities is the first step in addressing them. Hybrid threats are increasingly used by hostile foreign actors to project their influence, undermine trust in democratically elected governments and sow discord among the population by increasing polarisation.
In order to increase the resilience of Slovak public administration to foreign hostile influencing and manipulation, Centre for Countering Hybrid Threats has launched a comprehensive assessment of vulnerabilities to hybrid threats. The English version of In-Depth Vulnerability Analysis of Selected State Administration Bodies to Hybrid Threats is the only document of its kind that comprehensively maps the vulnerabilities of Slovak state administration bodies to hybrid threats and offers practical measures addressing them.
The analysis is the result of extensive cooperation between the Ministry of the Interior of the Slovak Republic and a number of central government authorities and security services. The analysis includes an introductory chapter examining the overall system architecture for addressing hybrid threats within the government, and 22 thematic chapters analysing vulnerabilities to specific hybrid threat instruments.
Due to the sensitivity of the information contained in the in-depth analysis, the material was approved at the meeting of the Security Council of the Slovak Republic by Resolution No. 818 on 12 April 2023 as classified material. The public version was edited for public distribution and discussion among the experts. It does not contain sensitive information, but still represents the most comprehensive mapping of vulnerabilities to hybrid threats, while offering concrete measures to address them.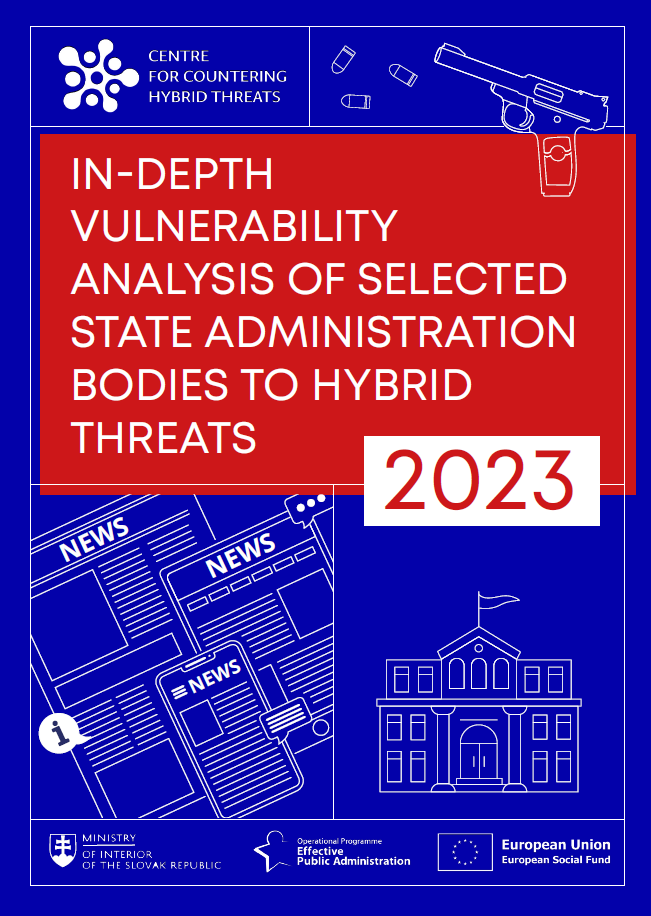 Tag: corruption ,culture ,cybersecurity ,diasporas ,disinformation ,economic dependencies ,education ,elections ,embassies ,energy ,foreign investment ,Government Office of the Slovak Republic ,infrastructure ,intelligence operations ,legislation ,media ,migration ,Ministry of Foreign and European Affairs of the Slovak Republic ,Ministry of Interior of the Slovak Republic ,paramilitary organisations ,polarisation ,pressure on politicians ,public administration ,sanctions ,strategic communication ,weapons